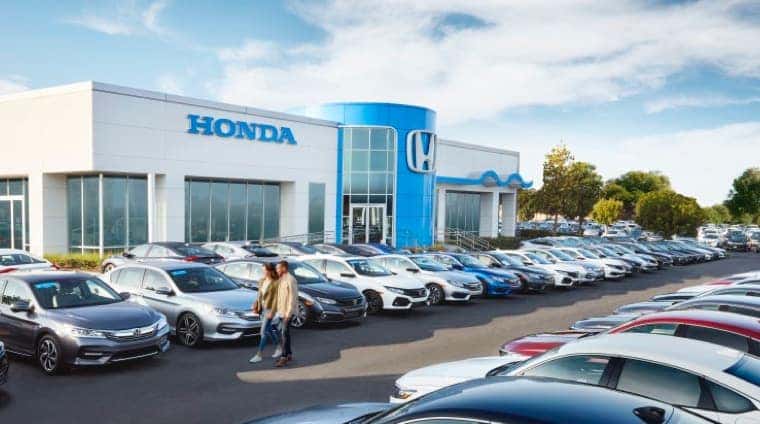 Why Honda of Sarasota?
Nothing compares to the quality of a Honda. No other program comes close.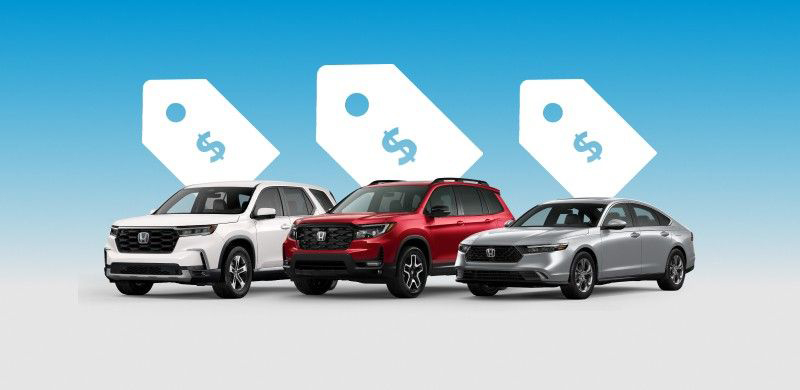 Current Offers
See this month's featured current offers going on now on new Honda vehicles.
Our Reviews
Great service! Everyone was helpful, friendly and very professional. This location will always have my business!
This is my second time to have my 2016 Honda CRV serviced at Honda of Sarasota. I will keep on returning to them for future service. Lisa was polite, knowledgeable, and very clear in dealing with me. My car was serviced promptly and the waiting room was very comfortable while I waited. I will be returning again next week to have my other Honda serviced. Thanks for a great job!
They had the car we wanted and they saved it for us till we could get there.
Experience at this Honda was better than expected. I drive to this sarasota location (about 45 min from my home)because I'm always taken care of. Im greeted pleasantly by Alberto, the advisor, he always makes sure I'm kept up to date with the process and tries to get me out-of there reasonably quick!!!
Handled the recall repairs needed without a hitch! Everything AOK. Drove me home and picked me up. Alberto , the service advisor, was great. And Ricardo, the driver, was professional and friendly. Even got a cup of coffee!
From start to finish, all went well. The appointment was made quickly and at my convenience. A coupon was honored and everything was explained and clear. Chose to leave my car onsite and phone communication and updates were made promptly with options, ideas, advice given as requested. Very good advice! the experience and willingness to help make problems (with the car, not personnel) manageable evident. Service advisor, Darin, went above and beyond to assist us in making positive decisions and plan for future issues. When picking up the car, another person helped us and she was friendly, polite, knowledgeable and funny! In fact, all service personnel, including Jake who fielded several calls from me when I had questions, were so kind and attentive. Jake, particularly, was careful with details which mattered a lot to us, such as the coupon. A bright spot in our day! Extremely nice people work here and the staff morale is high. We have another Honda car and will continue patronizing this dealership for our needs. A pleasant experience despite my car's issues and repairs. Good place, decent prices and fine people.
This is the second vehicle we have had the pleasure to purchase from Honda of Sarasota and particularly Mike Makmsbury! Everyone is very professional and it makes the car buying experience more pleasurable
We Had an appointment and drove to 45 minutes to the dealership. As soon as we arrived, we were greeted by very friendly sales people. In five hours we were riding away in our new Honda pilot. Couldn't ask for better customer service and we were treated very nicely. It felt like we were part of the Honda family. Michael Malmsbury was Absolutely amazing and did everything that he could do to get us in our new vehicle. We are 100% satisfied.
My car just hit 238K miles. The service department treats me no different than someone with a brank spankin' new car. Darrin was SO helpful with my urgent repair need. I appreciate the staff at Wilde Honda!
My salesman Matt is very good at listening and understanding my position. He followed up with me and gave me enough time to make a thoughtful decision. I drive three hours to pick my 23 Accord Touring. The price and condition of the car was as promised.
Once again, we're very pleased with the friendly, professionalism & service of our Customer Service and mostly, with our old (B. Hudson) and our new Service Advisor Alberto Escobar! Thank you for taking your time and provide excellency to our family, (3 Hondas) answer all our questions courteously with respect and kindness! Congratulations on great work! Keep going! Highly recommended!!!
I have purchased cars and had repairs when needed at Honda of Sarasota for over 20 years. Service is excellent and I always feel like the transaction was fair and that they met my needs above and beyond.
BEST HONDA DEALERSHIP!! I had a horrible experience at Honda of Fort Myers. They weren't transparent about their hidden dealership fees, and they were extremely rude and condescending. However, doing business with Honda of Sarasota was the complete opposite experience. They offered me a great deal, they were open and honest about all the fees, and they were very friendly and respectful. When you go to this Honda dealership, ask for DJ. He will take good care of you. Luis, the sales manager, was also very helpful. They even had the car delivered to my house so I wouldn't have to wait for it. I was so pleasantly surprised that they respected my time like that. There is no other Honda dealership in the area that comes close to the level of dedication to customer service satisfaction.
Angie and the service team made sure that someone as neurotic as I am left with a smile on his face. Always a pleasure.
Great customer service. Michael was a great help. Great service even after the closing hours.
Lisa and the Honda service team were amazing from the minute I drove into the service department at Honda of Sarasota. I was informed by text message as to the progress of my service throughout the procedure. The service was completed in a timely manner and I am extremely pleased with the explanation of all that was needed with my car. This was all done with courtesy and professionalism!!
Purchased a Hyundai Santa Fe Sport from Johnny Rodriguez and he made the whole experience easy and pleasant. Loved the humor of Dustin in finance. I never felt pressured, and appreciated that they worked hard to stay within our budget. I would highly recommend Honda of Sarasota for your car buying needs!
My wife has been a satisfied Honda customer for quite a long time. In fact, a 1998 Civic sedan she bought new that we donated to a young driver is still going strong! We both bought into the hybrid concept but most recently chose a Tucson Blue due to the larger cargo capacity; however, our experience with the vehicle (we owned it for over a year and a half) was not entirely a positive one, so we started looking again. Our choice was the CR-V. The average mileage thus far on our first tank of gasoline is 36.3-and climbing. That bodes well for the time when the engine has fully broken in! What we lost in cargo space we made up for in other ways. We prefer the handling of the CR-V, the audio system, the climate system, and the seats. Most importantly we feel great about returning to the company that has provided, in our past experience, stellar reliability. Now for the dealership: hats off to Robert Swayka for going further than the extra mile to ensure our long-term relationship with Honda of Sarasota will be a strong one. We will highly recommend them to anyone looking for an SUV in the future!
I was extremely happy with my experience. I was pretty sure I knew what I wanted when I first visited the dealership. DJ was very professional and helpful. There was no pressure and he got me the vehicle I was looking for with little fuss. We are very happy with our decision to buy our new Honda. Thanks.
Michael Malmsbury was fabulous to work with! He took the time outside with me during my car selection to tell me about the awesome features each car had! He was the most knowledgeable car salesman I've ever worked with, and I felt he was honest and truthful to me! If anyone in Sarasota is looking at purchasing a new or used car Honda of Sarasota is for you:)
Halim Boujrada was my sales advisor. He is very professional. I am glad to recommend him for further / future purchases.
I recently bought a Honda Hrv 2023 and I had Michael to assist me and I can say he took his time with me and was very patient, he oriented me before buying it, he explained everything about the new car and every little detail. It was just great I will recommend him with my eyes closed.
I recently purchased a 2019 Honda Ridgeline and was dissatisfied with how things were initially handled. After leaving a reviews of my dissatisfaction, David Farner GM of Honda Sarasota reached out to me to find out what he could do to make things right. Mr. Farner went above and beyond and took care of us as soon as we walked into the dealership. He gave us a great deal on a new vehicle (for my wife) that we could not pass up on. He literally treated us as if we were family and if we ever have any issues in the future to reach out directly to him. We are very satisfied with how he resolved this matter in a timely manner.
Michael Malmsbury was our sales advisor and he made the whole buying process a breeze. We drove from Lithia to Sarasota because Michael is very patient and listens to his customers ,he is very experienced in his work and is not pushy like some other sales advisors we had met at other dealerships. Highly recommend Michael Malmsbury at Honda of Sarasota.
Michael Malmsbury at Honda if Sarasota will make you leave car buying experience as breeze! Our company purchased TWO amazing used vehicles from Michael. He stayed late after close and communicated via text personally we closed our deal. General Manager David is also a stellar professional and operator. We highly recommend their Team and their vehicles. We'll be back!

Welcome to Honda of Sarasota
When you choose this dealership, you choose a lifelong partnership with your dealer. We are committed to helping you find the right vehicle for you as well as preserving the performance, safety, reliability, and long-term value of your vehicle purchase. You can count on this dealership for an opulent service experience from the moment you enter our showroom. Visit us today at our address — our seasoned professionals are ready to answer any questions you may have.
This dealership strives to provide the best vehicles and service possible to the dealership area. Or experienced sales and service staff is available to help you find and maintain your next vehicle. Visit our showroom today and let us help you find your dream vehicle!
Get Directions To Honda of Sarasota